Shih Tzu Breed Information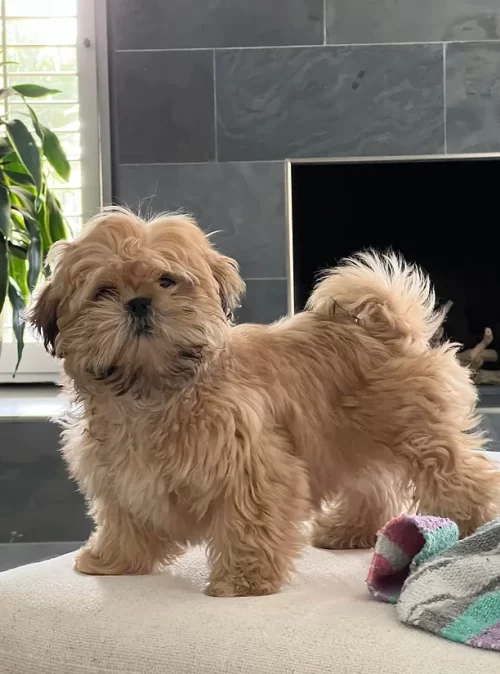 Premium Breeding Program
Overview
Shih Tzus are sturdy toy breed dogs that are thought to have originated in Tibet. Shih Tzus are considered a brachycephalic (short nosed dog with a flat face) breed. Shih Tzus usually has an even temperament and can quickly charm you with their big eyes and smooshy faces. Shih Tzus make great companion animals due to their outgoing nature. Shih Tzus can also serve as therapy, emotional support or service dogs if they possess the correct temperament traits and are trained properly. All of the puppies in my responsible breeding program are raised on a curriculum and go through temperament testing before being placed in homes. 
Take it from me, you can never have too many Shih Tzus! Their sweet disposition and outstanding temperament are sure to win over the entire family whether you're simply looking for a companion animal or a future emotional support dog! If my Shih Tzu breeding program and the Shih Tzu breed sounds like a match for your family lifestyle, please contact me today. I'd love to provide you with more information in regards to this amazing breed!
According to the AKC and the National Breed Club, standard sized Shih Tzus typically weigh between 9-16 pounds. Imperial Shih Tzu puppies or Teacup Shih Tzu puppies may way less than the breed average. Shih Tzu puppies also come in an assortment of colors. Some of the Shih Tzu coat colors include gold, red, silver, black, cream, white, liver, chocolate and brindle. A Shih Tzu may have a solid coat or the coat may be comprised of more than one color.
Puppy Perfection!
The Shih Tzu is a hearty breed. Currently, the National Breed Club for Shih Tzus recommends no specific health tests for the breed. I still take it upon myself to run a DNA panel in order to make responsible breeding decisions. I also run some blood panels and other testing on some of my breeding adults on occasion, per recommendations from my trusted veterinarian. All of my health testing is available for future puppy owners to view via video conference call or when they come to see their future Shih Tzu puppy.
Inherent Conditions
Shih Tzus are a brachycephalic breed. There are some common non life threatening conditions that are common in the breed.
Stenoic Nares or Pinched Nostrils
Stenoic Nares or pinched nostrils is a condition that is frequently found in Shih Tzus, especially during the teething phase. You may notice a bubbly discharge and your Shih Tzu puppy may even sound nasal. There is no reason to be worried as long as the fluid is clear and your puppy is active. The nostrils usually open over time as the puppy matures and teething comes to a halt. Very few cases require surgery. In the rare event that a Shih Tzu with pinched nostrils does need surgery, it is typically done at the same time as the spay/neuter and is a relatively simple and inexpensive procedure.
Reverse Sneezing
Reverse sneezing is another common benign occurrence in the Shih Tzu breed. Your Shih Tzu puppy may seem unable to catch his or her breath from time to time. Your puppy may even honk or snort. I have found that the best way to deal with this harmless condition is to remain calm and simply place your finger over your Shih Tzu puppy's nose for a few seconds. This usually remedies the problem rather quickly.
Delayed Closure or Umbilical Hernia
A delayed closure or umbilical hernia is another peculiarity familiar to the Shih Tzu breed. In simple terms, a small bubble of fat can be felt near the navel area. The condition is thought to be caused from tugging on the umbilical cord during delivery or it can be an inherited condition. Smaller hernias often close on their own as the puppy matures. If the umbilical hernia is still present at the time of spay/neuter the veterinarian may recommend that it be repaired. If hernia is repaired at the same time as spay/neuter it is a relatively inexpensive yet simple fix.
Shih Tzus require a decent amount of grooming to maintain their beautiful coats. Shih Tzus are a double coated breed. They have a baby fine undercoat and a coarser outer coat. Shih Tzu puppies are born with just the single inner coat. A Shih Tzu puppy's double cot usually grows in by the age of one.
The Shih Tzu's coat doesn't shed very much. Shih Tzu's have a luxurious double coat that is relatively straight although a slight wave is common. The Shih Tzu breed does require frequent grooming in order to prevent their coats from getting matted. The coat may be kept long or you may choose a shorter Teddybear cut. Daily brushing is recommended.
Every once in a while a dog enters your life and changes everything!
Sweet Dreams
Shih Tzus don't require an overly active lifestyle. A short supervised outing in a fenced yard or a quick walk are often more than enough to meet daily exercise requirements. On the other hand, you Shih Tzu puppy or adult dog for that matter will most certainly appreciate a game of chase of frisbee.
Furthermore, Shih Tzu puppies often have a lot more energy than adult Shih Tzu dogs. It's important that they get ample opportunity to expend that energy. In my opinion, a tired puppy is a much better behaved puppy! 
I suggest that you don't attach a leash to your Shih Tzu's collar. The collar should hold identification tags but shouldn't be used for walking. Purchase a harness for activities that require a leash instead. The Shih Tzu is a brachycephalic breed. Any pressure on the windpipe or trachea can cause the trachea to permanently collapse. Using a dog harness will help prevent this type of injury from taking place.
"A dog is the only thing on earth that loves you more than you love yourself." -Josh Billings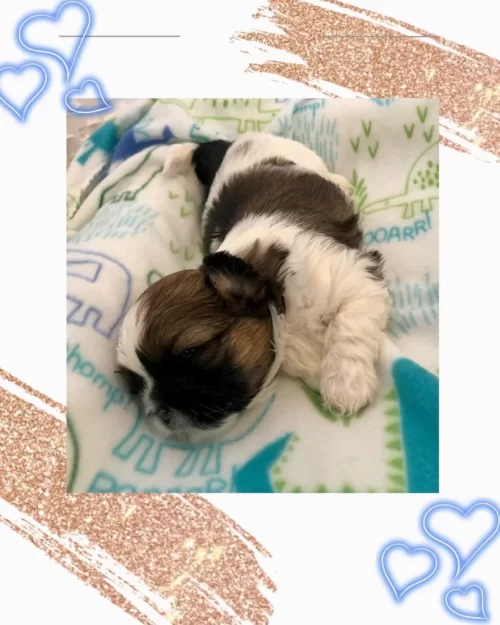 Unconditional Love
Shih Tzus usually gets along with everyone, but can be hurt easily due to their small size. As a result, they should be supervised around children. It is essential that children are taught in advance how to communicate and handle a small puppy. It will definitely pay off if both the Shih Tzu puppy and the children know how to behave in each others company. Over time, through mutual respect, I am certain that the puppy and children will build a lifelong relationship full of love and memories.