More Than Just a Cute Puppy!
to Arizona Sunrise Shih Tzus 
You can call me Dee! I am your local, reputable Shih Tzu breeder. I run a small, responsible breeding program in sunny Goodyear, Arizona. If you're looking for ethically raised purebred Shih Tzu puppies for sale, you have come to the right Shih Tzu breeder. All of my Shih Tzus are family first!
The adult Shih Tzus in my breeding program meet all mandatory health testing requirements for the breed. Breeding adults are screened for genetic health conditions to guarantee purebred heritage and help me make ethical breeding decisions. I have also been awarded Good dog's Excellent health testing badge! All Shih Tzu puppies for sale come with a two-year health guarantee.
"Quality is everyone's responsibility." (Deming, Edwards)
"Happiness is a warm puppy." - Charles Shultz
I only have a few litters of Shih Tzu puppies per year. This gives me the opportunity to provide the puppies with a great deal of time and individualized attention during their most critical period of development. Running a small, responsible breeding program also allows me to have the time and energy to devote love and attention to my adult dogs which mean the world to me! All of the Shih Tzus in my program are family first! They spend their days alongside my family and I.
If you're ready to work with a local, reputable Shih Tzu breeder head over to the
reserve page
and fill out the application. Make sure to check out the
program and pricing
page as well in order to learn what makes my program unique. 
I do offer travel options if you're out of state. Please head over to the
transportation page
for more details. 
I promise to be there every step of the way. I offer
breeder support
for life! I am beyond excited to introduce you to your next Shih Tzu puppy! Everyone deserves to know the love of a good dog. 
Shih Tzu Puppies for Sale!
Daisy will give birth in the spring. Cookie will give birth in the early summer. Maggie will give birth in the fall. Please fill out the application on the reserve page for consideration.   
We typically have Shih Tzu puppies in a variety of coat colors and patterns. In the past we have had chocolate Shih Tzu puppies, gold Shih Tzu puppies, black Shih Tzu puppies, gold and white Shih Tzu puppies, black and white Shih Tzu puppies, etc. 
Our Shih Tzu puppies have either the traditional black pigmentation on the nose, eye lids and paw pads or the more rare liver pigmentation which turns all pigment to brown. If your'e interested, you can learn more about liver Shih Tzu puppies by clicking here. 
Make sure to follow along on Instagram to watch these well raised Shih Tzu puppies amazing life journey! Simply click on the Instagram link at the top or bottom of this page. 
Quality isn't expensive, it's priceless!
"I learned that courage was not the absence of fear, but the triumph over it." Nelson Mandela
Program at a Glance
I make it my mission at Arizona Sunrise Shih Tzus to produce purebred Shih Tzu puppies of the highest quality and health! You can find Shih Tzu puppies for sale at your local pet store for about the same price or maybe even less than my Shih Tzu puppies cost. But, you will most likely not know where your puppy came from or how he or she was raised!
As mentioned above, all of the purebred Shih Tzu puppies for sale in my responsible breeding program are raised on a first class puppy curriculum to help them live up to their full potential. Furthermore, all Shih Tzu puppies remain in my home for the first 11 to 12 weeks of life in order to learn irreplaceable skills from their mother and littermates during this critical puppy socialization period. 
I structure my responsible breeding program in a way that gives you an inside look at your future Shih Tzu puppy's life journey from birth until he or she joins your family. I post videos or photos of the Shih Tzu puppies working their way through my program almost daily on social media. Please follow along on Instagram and Facebook to see firsthand how I raise the puppies at Arizona Sunrise Shih Tzus. As a local, reputable Shih Tzu breeder, I want nothing more than to  provide my clients with high quality purebred Shih Tzu puppies that provide many years of unconditional love and fond memories. 
Testimonials
(Head over to my Instagram story highlights to see even more testimonials! You can also access my reviews on Google and Yelp!)
Beautiful Experience
Bringing home our sweet puppy from Deanna & her family was the most beautiful experience. She cares for her pups like her children, with so much love and warmth. She is so smart and so well versed in every area of care for her puppies and her grown dogs. I couldn't be anymore impressed with how knowledgeable she is and how it translated into all the work she does everyday with the puppies & the AMAZING environment for them. I see all the effort and creativity that goes into the care for the pups, it's remarkable!! It felt like a true family experience, I'm forever grateful for our Teddy and the amazing home she came from. Deanna is the best!

Couldn't Be Happier
We recently brought a puppy home from Deanna's program and we couldn't be happier. We chose to work with her, rather than a breeder closer to our home because we liked the fact that all of her adult dogs used for the program live in her home and are loved and cared for as family members full time. We were also impressed with the curriculum she was using with the pups. She puts her whole heart into caring for and giving each of the puppies the best possible start in life, the results of which is a happy, loving, and well rounded dog.
Truly Impressed
We recently bought a puppy from Deanna. I was really impressed by the entire program. Deanna truly loves and cares for each puppy and gives them the most incredible start to their lives. Our puppy is so smart and well adjusted. I honestly have never had an easier puppy. He has fit in with our other two Shih Tzus so quickly. Deanna is full of knowledge and always willing to help pet owners with questions or concerns. I love being able to see the entire litter daily on her Instagram account. I would highly recommend this breeder!
Responsible Breeding Program
Reputable Shih Tzu Breeding Program
Education, Awards & Certificates
As a responsible Shih Tzu breeder, I find it imperative to acquire a first class breeding education. I have taken courses through the Empowered Breeder (BAB) program, Avidog, MadCap University, Midwoofery, and the AKC. I have received certificates from the American Kennel Club for successfully completing the Whelping and Medical Intervention and Nutritional Influences on Reproduction exams. I received the badge of excellence for health testing practices in Shih Tzus and the responsible breeder badge from Good Dog. I have also completed the Puppy Evaluator course through the Empowered Breeder program. I also partner with Baxter & Bella an online puppy school to provide clients with first class puppy training options. For a detailed list of my breeder education click here.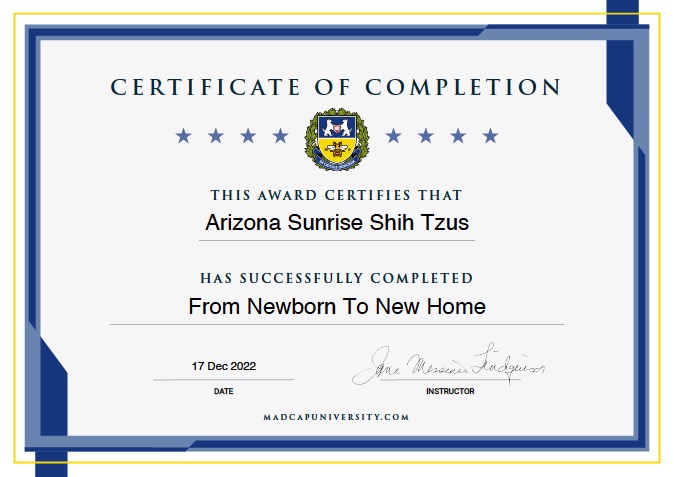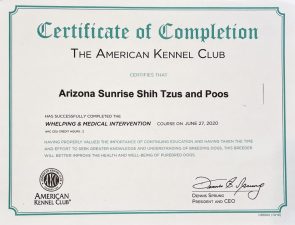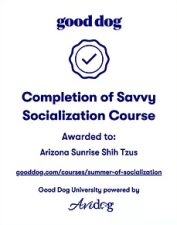 If you're looking for a Shih Tzu puppy for sale contact Arizona Sunrise Shih Tzus today! As a local, reputable Shih Tzu  breeder, I promise to always put the welfare of the puppies first! I would love nothing more than to help you get started on your journey to owning a Shih Tzu puppy raised in my responsible breeding program. Follow along on Instagram, Facebook, or my blog for puppy updates.