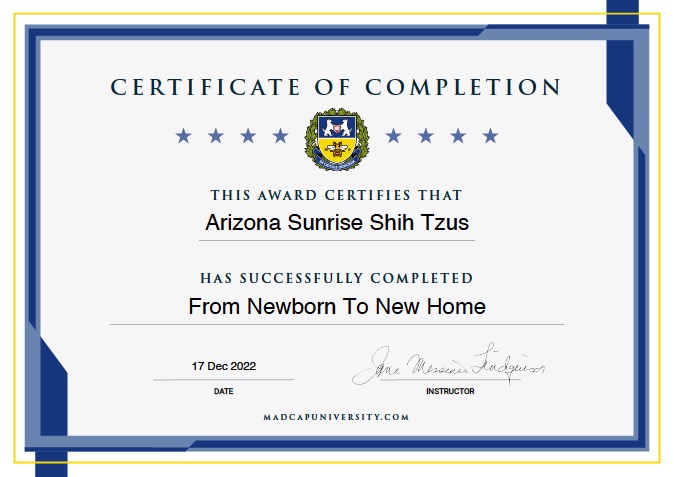 I truly believe education is key in everything we do in life. This includes being an educated and responsible Shih Tzu breeder! The goal of my education is not only to breed responsibly but also to produce well rounded Shih Tzu puppies that have all the tools necessary to succeed in their new homes.
I am constantly looking for ways to continue my breeder education. Knowledge truly is power. It is my mission to make sure all of my Shih Tzu puppies for sale have the very best upbringing. I learn new things that I can add to my responsible breeding program when I take a new class or read a new book on breeding.
Furthermore, I am passionate and love what I do. I truly enjoy learning as much as I can about the breeding field. I wouldn't change my current career path for anything.
Below is a full list of my breeder education:
Good Dog Excellent Health Testing Award, Responsible Breeder Award.
Good Dog/AviDog Courses: Your Litter A to Z, Savvy Socialization, Breeding Foundations, Pre-Breeding, Litter Management, Pregnancy & Whelping.
American Kennel Club Certificates for completing the Whelping & Medical Intervention and Nutritional Influences on Reproduction Exams.
Midwoofery Courses: Breeder Basics: Litter Care, Managing Puppy Parasites, Canine Color Genetics, Canine Fertility and Timing.
Puppy Culture: The Powerful First 12 Weeks That Can Shape your Puppy's Future.
From Newborn to New Home: Madcap University
Puppy Evaluator Course and Badge : BAB/Empowered Breeder Program.
BAB/Empowered Breeder Courses: Choosing Breeding Pairs, Choosing Breeding Stock for your Program, Curriculum Planning-Raising Puppies According to Their Developmental Periods, Bottle and Tube Feeding, Placing Service, Therapy, Facility, and ESA Dogs, How to Imprint a Litter to the Diabetic Scent, Newborn CPR.
AKC Canine College Courses: ABC's of Dog Breeding-Canine Genetics, Genetic Defects and Health, Breeding Systems, Kennel Blindness, Pedigree, Dog breeding-Selection.